Alysa Gap - Did You Hear? Cockie Monster Is Here! (UltraHD 4K 2700p) - VirtualTaboo - [2022]
Being a stepmom has not been easy for Alysa Gap. Her new husband has a college-aged son who is just not ready to have the beautiful, young brunette replace his mom in the home. This has often led to fights like the one they had tonight.With his father out of town on business, the young man treated Alysa with great disrespect. When he comes into her room to apologize, he does so with a peace offering in the form of a box of cookies. Seeing that they are her favorite treats,Alysa is thrilled to accept his apology. When mom takes two of the cookies out, she sees that he has another surprise for her. His hard cock is tucked away in the box. As her fingers brush against the hot, throbbing flesh, Alysa instantly knows how shecan improve her relationship with son.She takes his cock between her lips, savoring the taste and enjoying the feeling of him filling her mouth. Moving to the bed, she bends over, showing him the bejeweled buttplug she has been wearing to get her ass ready for his father. After just a fewstrokes in her pussy, Alysa knows she will be taking the plug out and letting son plow her tight asshole. He knows it too and doesn't wait for her to ass, popping it out and sliding his dick into her from behind. Alysa feels every inch, loving how hard he is for herand moaning out how much bigger his cock is than his father's. She does all she can to please his cock, including sucking a huge load out with her talented mouth. Alysa licks up his load and knows that they will get along better from now on.
Duration: 00:39:31 | Quality: UltraHD 4K | Size: 8.37 GB
Genre:
Anal, Big tits, Blowjob, Brunette, Cowgirl, Cum eating, MILF, Shaved pussy, VR, Virtual Reality
Porn Actress: Alysa Gap
Title: Did You Hear? Cockie Monster Is Here!
Site: VirtualTaboo.com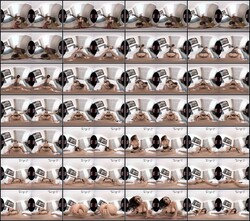 Views: 41
Comments: (0) |